WE GET YOU TO THE FINISH LINE!
An Ultra Challenge® is about setting new goals, 'Pushing Yourself Further', and having an unforgettable experience. We lay on the best support & hospitality available on any UK endurance style events - and we're famous for it! This enables you to step up and confidently tackle an 'Ultra' distance, with the best chance of success - and to enjoy your challenge!
Good preparation and planning are key to a successful Ultra Challenge®. From the moment you sign up you'll have access to our online guides, videos, and a 'Challenge App'. There's optional training walks & runs, along with participant forums to share training ideas, encouragement, and advice. Join us, and you'll join a large welcoming community.
100,000 adventurers of all ages & experience have taken on an Ultra Challenge® – and the support we lay on provides all you'll need to succeed. From marquee rest stops stocked with free food & drink, expert medical & massage teams, lots of clean toilets, experienced Trek masters out along the route to help you, to a noisy Cheer Squad welcome at your finish line – it's details that add up to make the difference on an Ultra Challenge®.
HELPING YOU PLAN YOUR CHALLENGE
Each Ultra Challenge® has optional 'Bookable Extras' to make the planning of how to join, leave, and take on your challenge easy. Parking at key venues, shuttle bus transfer services, and camping packages - all need booking in advance, with 'Baggage Transfer' options available on-the-day. Click below for more info.
Family & friends can follow you every step of the way!
If you'd like family & friends to track your real time progress on your Ultra Challenge, then why not book a new Geo Tracker!  Pick it up at the start of the event – share the map with them – and then they'll be able to see exactly where you are – day & night !
stepping across the start line!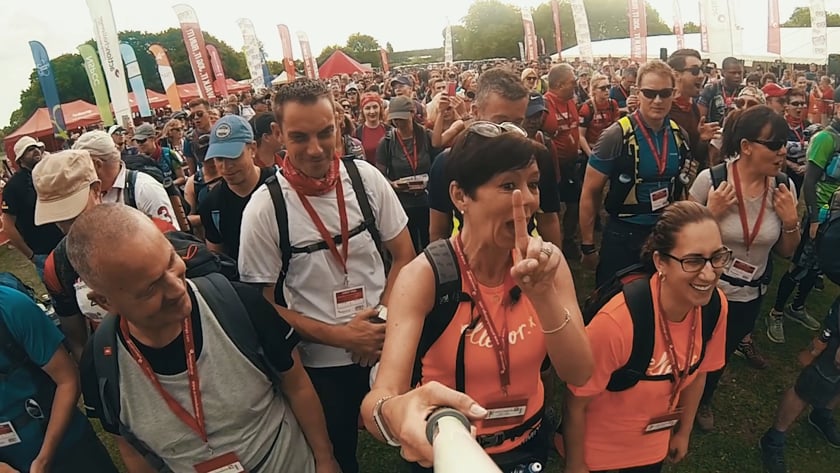 You won't get lost, as we believe we have the best route marking set up in the business, and also have experienced teams out & about supporting you when you need it most. Our 'Trek Masters' organise group departures from rest stops, so nobody has to walk alone at night, and our Emergency Response Teams are only a phone call away if you need them.
Finish line memories last a long time. Our Cheer Squad welcomes you in, place a well earned medal around your neck, with a celebration glass of fizz. Head to the BBQ, check in for massage, and then relax. Reflect on your achievement, and once the aches have eased and the feet recovered, planning the next challenge may soon start, as your boundaries and goals have been re-defined!
that finish line feeling!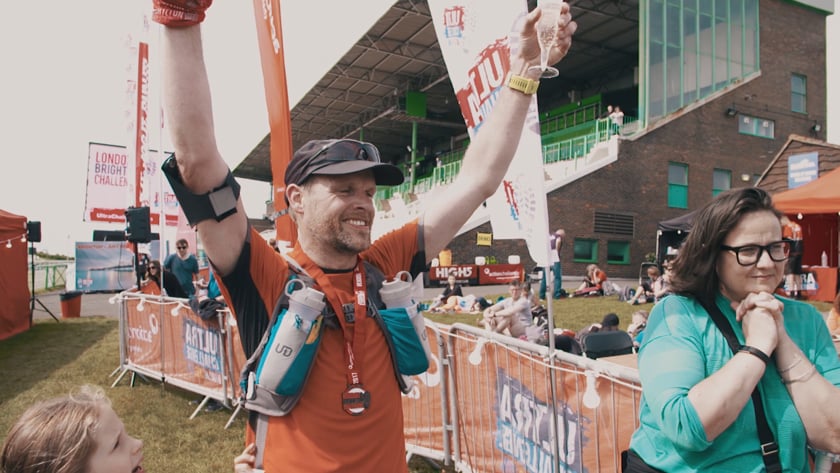 We work with an experienced network of partners to be able to bring the Ultra Challenge Series to life. With their expertise and commitment we are able to deliver our events to the highest standards of safety and hospitality.
Our events will be as low risk as possible, as we've a proven model having successfully operated 12 large events in 2021, and 15 in 2022. Book with us now – and be confident about your Ultra Challenge®!
Are you ready to sign up ?
All you need to know about the Series - a detailed overview of the options & how you can take it on. Print it off or send it to your friends!